The days when we used headphones only for our favourite songs are irrevocably gone. Firstly, people were engaged with video streaming services like YouTube. Besides entertainment in their leisure time, they used background video to avoid silence while cooking, doing sports, or cleaning the apartment. Later, the evolution of headphones joined the trend as well. Bluetooth headphones emerged and made listening even easier — one may move away from the video without worrying about wires. On top of that comes the era of mass distribution of listening content: books, audio educational courses and... podcasts.

Complex recording evolved into an accessible media

In the very beginning, to create content people needed to buy expensive audio recording stuff and work with sound editing for a long time. Now technology made podcasting accessible for both — content creators and consumers. Recording tools are getting cheaper and any smartphone owners can record normal-quality podcasts too.

Are Podcasts Popular?

They are booming. In the late 90s, when first podcasters started broadcasting their teenagers stories from the garage. But at that time the idea did not seem promising — these were just talks to entertain friends, and existing technologies were not yet developed so that podcasts could reach a wide audience easily. Since then, the industry has turned upside down. All sorts of humorous shows, scientific stories, business secrets or household tips can now be found on the platforms. Even deeper than that, some people use podcasts to improve their mental health and influence consciousness — fall asleep, calm down, boost motivation and even to spark imagination and get aroused.

Statista's numbers show that podcasting is one of the most growing media industries — podcasting ad revenue in the USA made a steep flight up in the last six years from $105 million to $1 044 million and it's compound annual growth rate (CAGR) is 46.5 %:



What about non-revenue numbers, Podcast Insights calculated that the number of existing active podcast shows exceeds 1,000,000 and 30+ million number of single episodes is growing everyday.

Podcasts' audience

The annual growth trend signals that a new type of entertainment and learning is being integrated into user's lives more and more deeply every year. According to Edison Research, every second American has ever listened to a podcast, and 37% is doing it on the monthly basis:



It is hard to imagine a person who will turn on the audio and just sit and listen. Usually, users try to spend time wisely doing other things — waiting in traffic jams, relaxing during work breaks or doing cardio training. Nielsen shows that the heaviest users listen to broadcasts when they are away from home — while commuting, at work or in other circumstances. The index below indicates how engaged users are in listening to podcasts in different situations (the higher the index is, the more often the user prefers listening to podcasts instead of other content):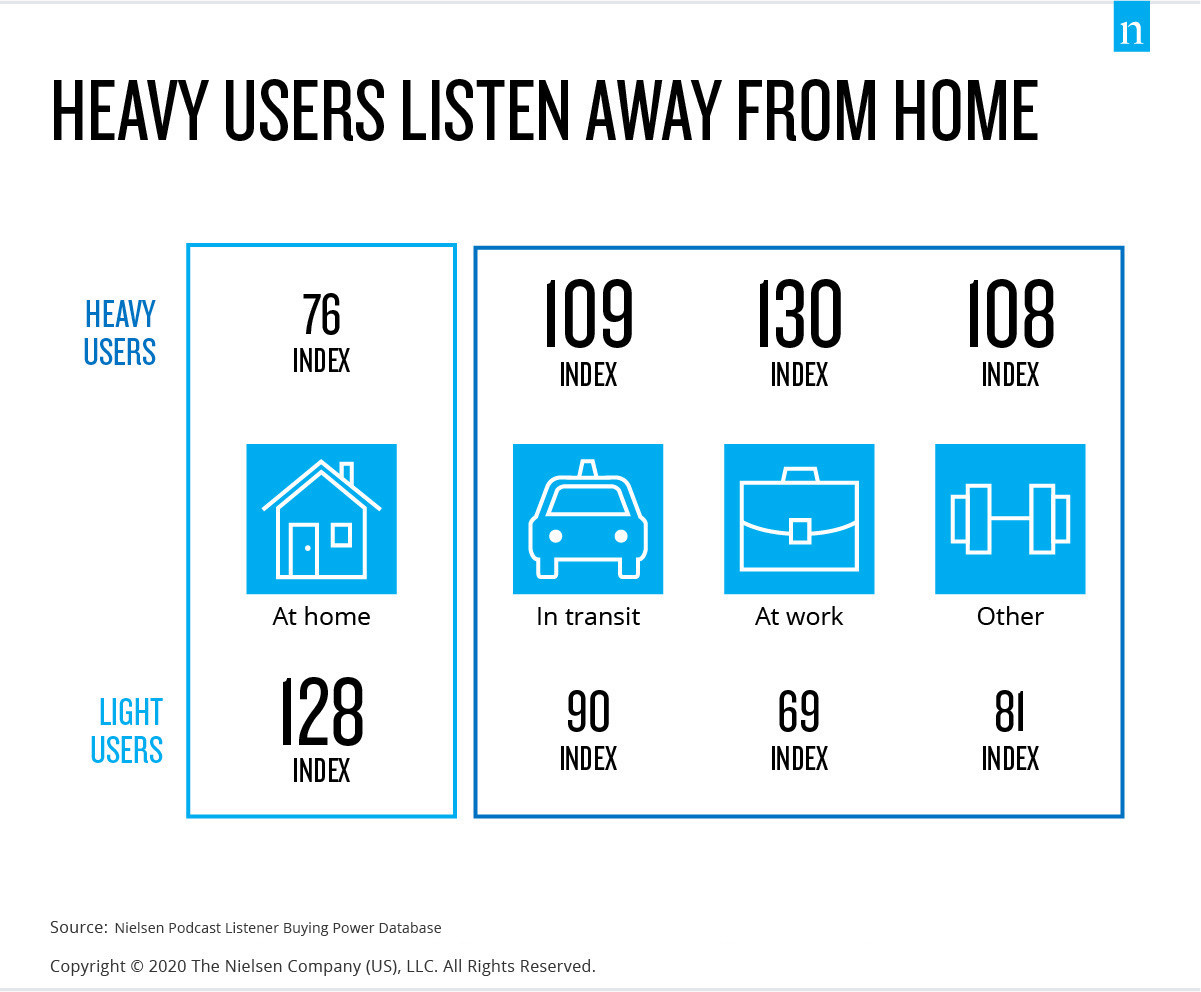 Annual PwC study highlights the most revenue-generating podcast genres in recent few years. The table of top positions shows which topics of the show attract the largest audience of listeners. Besides news, top positions are belonging to comedy, business and educational shows. In total, these categories generated almost 66% of total ad revenue in 2018:



Later, researchers from Edison with their Podcast Consumer Reach Tracker noticed, that the top 3 popular topics in 2019 were comedy, news, and society & culture.

Quarantine intervention

In the beginning of 2020, COVID-19 pandemic started, and many countries worldwide put their citizens under quarantine. These events have disrupted a lot of industries: travel stopped, people started buying everything online, Zoom's DAU skyrocketed. Podcast industry was affected, too. The number of active users has decreased, but at the same time specific genres enjoyed great growth — podcast listenership is growing steadily despite a slight slowdown. Podtrack weekly billion podcast tracking report shows changes in top categories over last 4 month: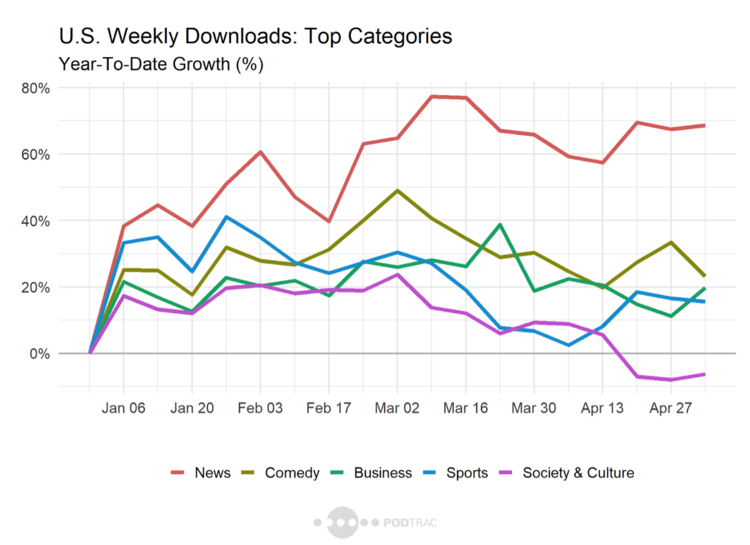 The news line goes far up, nevertheless other categories, including comedy, sport and business also still remain a topic of interest.

According to large global podcast company Acast, audience preferences this spring are highly dependent on the pandemic situation in the country. For example, in Europe, where isolation and social distance prevail, quarantine stimulated the growth of Comedy (+ 21.5%) and Science & Medicine (+ 14.5%) genres during the last week of March:




The Acast's COVID-19 statistics also shows that the comedy genre was most rapidly growing over the weekend listening globally, including 195 countries data:




Now people are highly sensitive to the situation in the world. They are willing to get trusted information from news, scientists and medical professionals. At the same time, the data shows that light entertainment content also has become a great need during the global lockdown.

Global growth potential

Podcasting, as a fast-growing technological area with high engagement potential, remains attractive to founders, developers and investors. Genesis Investments has closely monitored this industry development, trends and market opportunities. We were interested in finding a united ambitious team with promising product, strong design skills, and desire to build a competitive product in the global market. When the opportunity arose and we met Elision Visual Podcast platform's founders, we immediately made an investment offer.

More about Elision

Elision is a well-designed platform which displays all the podcasts and shows available in a conveniently structured interface. To make the platform outstanding, Ukrainian developers added a unique feature: the user can listen to podcasts and at the same time see the add-ons on screen: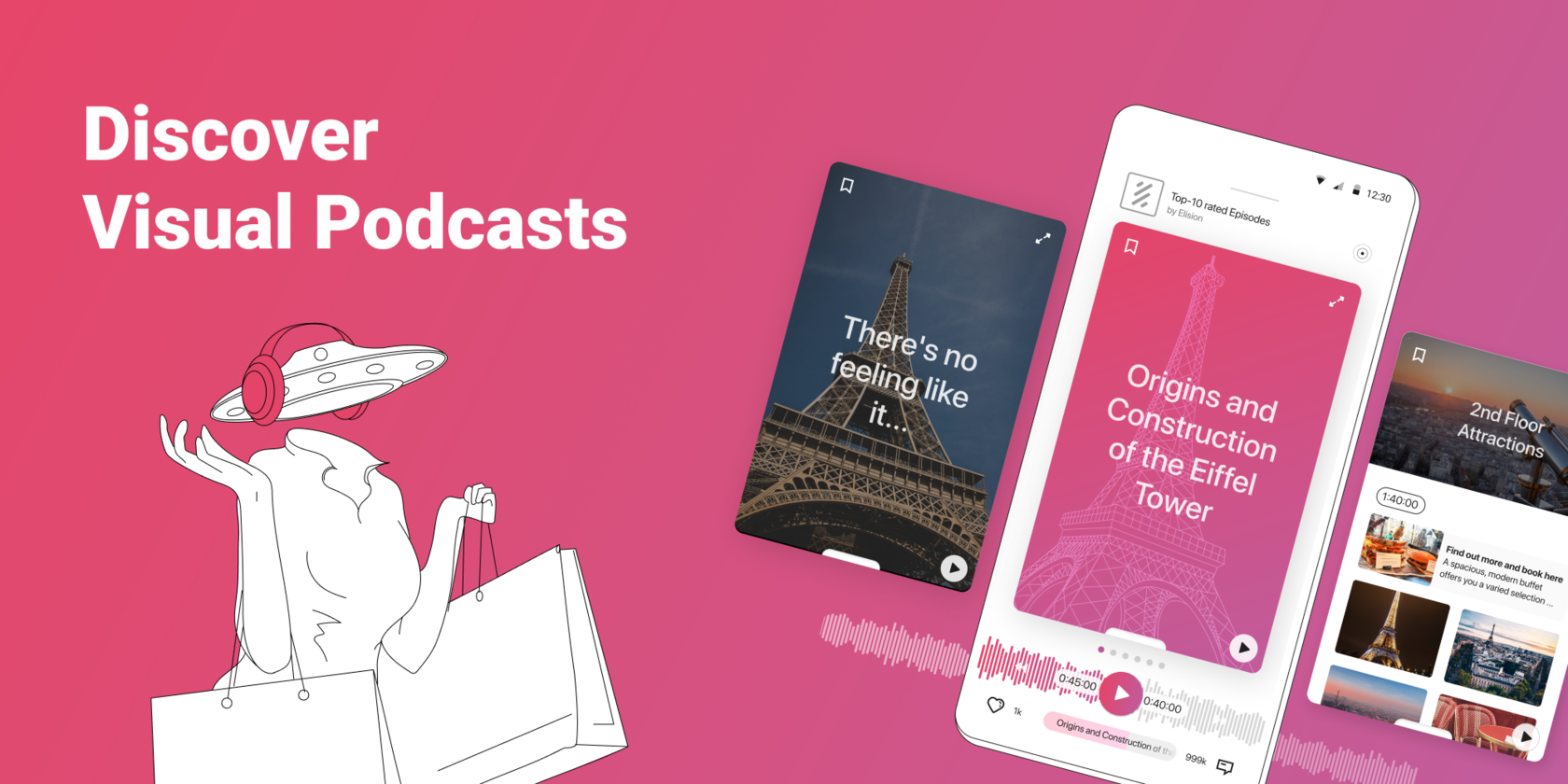 A key point here is in a person's ability to perceive information. When a user just listens to a podcast, she absorbs only 10% of information. When visual information is added to the audio, the figure jumps up to 65%. In Elision, this extension is called RichAudio format, which allows to attach pictures, text and links to the sound, making the listening experience more deep and engaging. Founders are convinced that this kind of visualization is the next big thing in the podcast industry:

Genesis Investments strongly believes that good projects in fast-growing areas have great chances to become global leaders. Podcasts provide a unique opportunity to satisfy a person's need for additional information, when one can only listen without looking on the screen non-stop. We believe that a new platform for podcast experience is on it's way to global expansion due to the team's hard work, collaboration with experts and deep industry analysis and understanding.