On May 14, the B2B-focused SaaS Stock Local platform organized a huge online collaboration event for the European B2B SaaS community. It included ideas exchange on how to deal with current crisis, startups pitching, lectures by speakers from 12 countries and Startup Teardown led by Vendep Capital and Genesis Investment. And here is our summary!



How was the event held?

This time, members of the community and SaaStock organizers did this event in an online format for the first time. As the organizers noted, under the lockdown caused by COVID-19 there are still no barriers for industry networking. In the face of the crisis, the whole community possesses a global mission to adapt their strategies, reshape their mindsets and find new winning solutions for their SaaS businesses.

Who was at the event?

Hundreds of community members including startup founders, leadership teams, investors, consultants and analysts gathered from all over Europe. Speakers from 12 participating cities come together to conduct presentations and networking in divided sections:



Kyiv business representatives joined Helsinki partners to share insights about adapting sales models to new reality.

What are the key insights from representatives of the Ukrainian-Finnish SaaS community?

Max Pecherskyi, CEO of Promorepublic led the section from Helsinki. He mentioned that for his team sales are the most effective and interesting part of SaaS business. At Promorepublic they are reinventing sales and going through interesting and challenging times at the moment.



Igor Karpets, Head of Enterprise Sales at Grammarly, said that the first thing they did with the team was stopping and thinking what they should do differently. It was important to understand and acknowledge that for customers getting software is not a priority now. Grammarly switched from sales to relationships built using three main rules:

1) keep everything cute (they even sent pictures of pets in official emails)
2) don't pitch aggressively (keep caring, not selling)
3) don't avoid personal touch (show faces, run live conversations)

And a piece of advice for managers: use this turbulent time wisely, train the team, test new approaches and try new software, giving some tools and app ideas:



Michael Maximoff, co-founder and Managing Partner at Belkins Inc. looked back at the first few weeks of quarantine reality. According to him, it was a full stop of sales and no one was able to make a decision. The problem was resolved when they looked at the pipeline and prioritised their clients.

He advised not to give any discounts without explanation. For example, if a product costs 1000$, it's not effective to offer it for 800$ for no reason. A client might perceive this as charging extra 200$ just to make money, while the fair value of the product is 800$. The great option is to offer a discount, but at the same time, for example, reduce some temporarily unnecessary functionality.



Andrew Husach, Head of Sales Operations at Promorepublic, was focused on 2 questions — how to find new customers and how to deal with existing ones. He advised not just to give the product for free, but to make sure that customers had the motivation to earn it. For example, it can be a reward after an educational program or a limited offer of free accounts for projects that will apply and pass the selection.



Dominique Piotet, the CEO of UNIT.City, also emphasized that if something is free of charge, users are getting used to it. He also shared a very "silicon-valley" approach to developing SaaS businesses. If you are trying to solve a problem which was already solved, you will probably fail. If the problem is not solved yet and you have a good idea, probably someone has this idea too. What you really need to do in this situation is to be very open and listen to the market and potential clients — adapt, launch, readapt, relaunch.

To identify that the problem solved by the product is real, focus on the pain points. You can look at any SaaS product and clearly determine the pain of their customers. Be customer centric, learn and improve - and you will see tons of powerful solutions.

What did the participants do after the presentations?

The last 1.30 hour of the event was devoted to interactive sessions, where participants had an opportunity to pitch their ideas and be "torn down" by investors. Genesis Investments was represented by Senior Investment Analyst Elena Mazhuha, who sources startups, monitors industry trends and navigates companies through the investing process.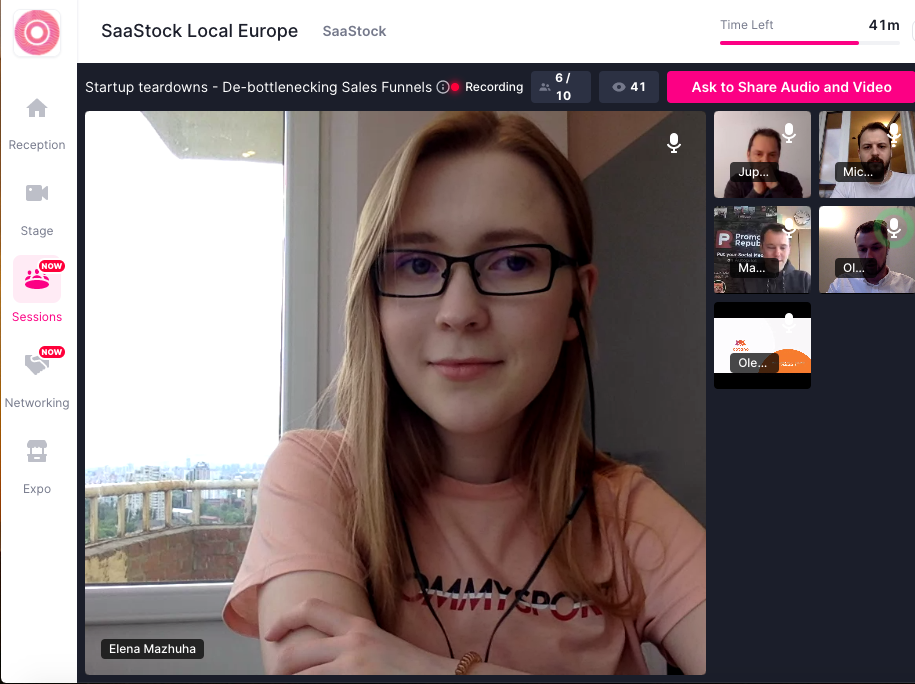 Elena with Michael Maximoff and Jupe Arala, General Partner Vendep Capital listened to speeches, gave feedback on startups' pitches and sales processes and recommended world best pitches practices.

Overall, entrepreneurs validated business ideas and left the event full of ideas. And, of course, event organizers did a great job showing we are already adapting to new normal by hosting online events.