In an article for VC.RU, our Investment Manager Elena Mazhuha shared why we decided to invest in an AdTech startup when the entire business world has reduced marketing and advertising costs.



Over the past few decades, we've seen significant growth in online advertising spending worldwide. Despite the Statista's digital advertising market valuation of $374m in 2020 with +11.5% YoY, COVID-19 caused some changes in global ad spending. As per Influencer Marketing Hub Ad Impact Research, 65% of companies noticed a decrease in revenue and 69% expect They Will Decrease Ad Spend in 2020:


While budgets overall become smaller, digital marketers more closely monitor the effectiveness of every advertising dollar. In a recent a16z article, Ben Horowitz discussed COVID-19 impact on B2B sales with his team. They characterize the situation as a typical downturn, that forces companies to make some changes in cost structure and customer experience. To remain competitive, many companies accelerate digital transformation and invest in automation tools.
Industry growth rate

Despite forced ad spending decline, the overall online advertising market is still growing — EMarketer expected that in 2020 the online advertising market will increase by 7% compared to 2019. Global Digital Ad Spending Q2 2020 Update showed that the predicted number is now 4,6 points lower, but the digital ad spending growth rate remains positive. Statista's COVID-19 adjusted forecast confirms the trend of constant growth, expecting a doubling of figures before 2024:



Despite COVID-19 outcomes caused a discrepancy to the predicted numbers, global digital ad spending will achieve 2.4% growth this year. In addition, budget distribution between channels takes place — EMarketer researchers expect a 0.2% decline in global search ad spending along with a 5,3% growth in display spending.

"With smaller budgets for multichannel promotion, a focus on efficiency is perceptibly stronger. The need for an accurate and affordable ad control tool becomes urgent and immediate."— Vitaliy Laptenok, General Partner at Genesis Investments commented.


Ad tracking solution

Keeping track of running advertising campaigns is a complex task that requires concentration, analytical thinking, and data-driven decision-making. Daily subtasks include comparing different metrics, navigating through various channels, budget management, and campaign control. During a tumultuous year for advertising, the penalty for mistakes will be especially expensive and time-consuming. All-in-one solution for affiliate marketing becomes an indispensable assistant on the business journey amid the COVID-19 pandemic. This is why we were so excited to meet the team at RedTrack.


What is RedTrack

RedTrack.io is a sophisticated tool that helps to analyze advertising investments and improve performance with data-driven decisions. The tool is aimed at media buyers, ad agencies, e-com, and affiliate marketers, who need accurate performance data across multiple channels and conversion events in real-time.

RedTrack.io automatically manages ad spending through 20+ traffic sources including Google, Facebook, PropellerAds, and MGID. It helps optimize affiliate campaigns, automate spending control, and achieve higher marketing performance with smaller budgets. The platform already helps its customers to solve complex problems in marketing, advertising, and technology mixed together. Besides web service, the company offers a mobile app with quick access to insights: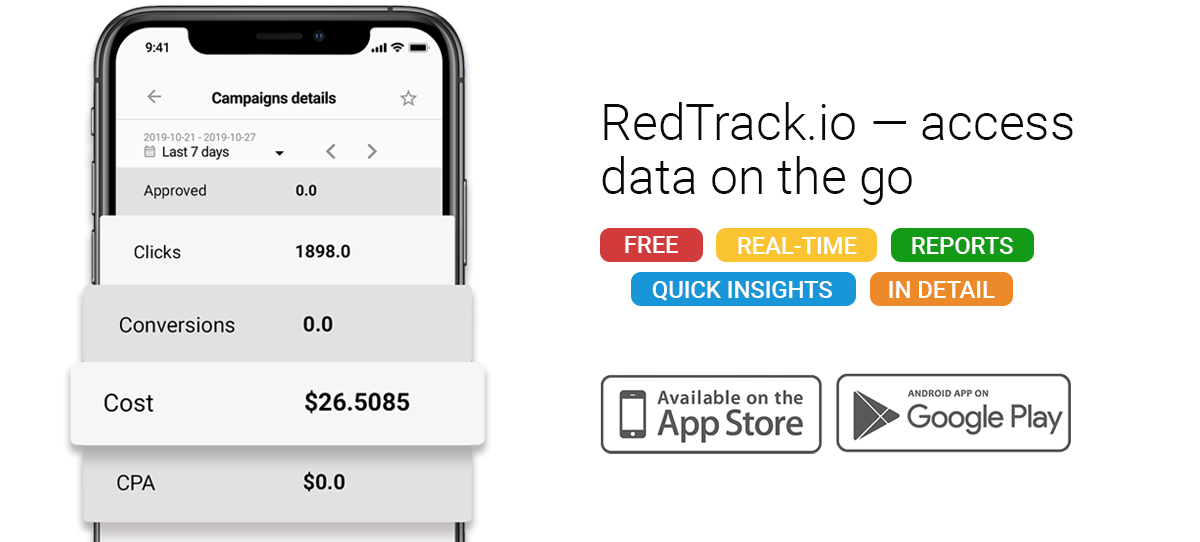 The platform offers extra automation features to protect the budget and secure business. Clients can set-up rules to pause campaigns at a certain conversion level. If conversions drop, the ad campaign stops, and the money will not be lost overnight. Finally, there is a built-in bot filter and a feature to avoid showing ads repeatedly to the users that didn't convert.

This SaaS solution provides non-privacy intrusion techniques for cookieless tracking and offers day-and-night customer support. RedTrack.io has awards-worthy standards for customer support experience with honed onboarding processes and individual support. According to RedTrack's internal policies, the operators should respond within a few minutes and resolve the problem of any complexity less than in an hour.


RedTrack team

The CEO and founder of RedTrack Vlad Zhovtenko has strong skills and 20 years of experience in digital marketing. He has been in the industry since the rise of banner advertising to the present high-tech analytical solutions era.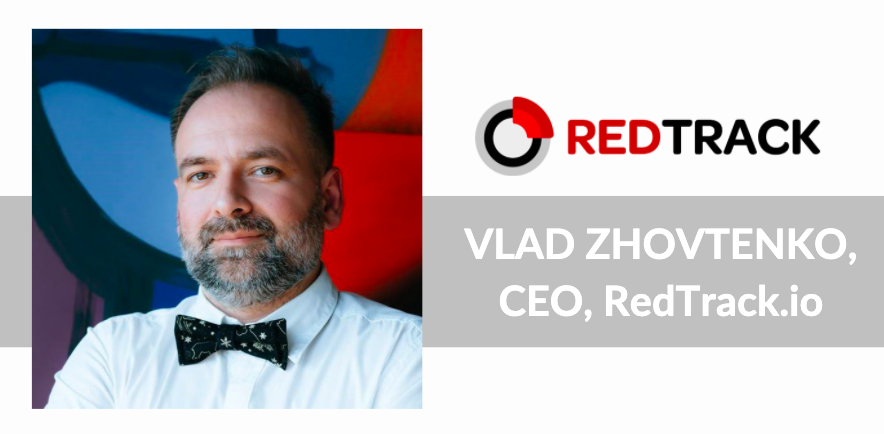 Vlad worked a lot with affiliate companies when they looked completely different from what marketers see now. He put on his client's shoes many times experienced digital marketing difficulties and a state of urgency and high financial responsibility.

"I have been in digital marketing since 2000 and every trend of the past years has left an imprint on my experience. Tools and techniques change but one thing remains common though all those changes - conversion attribution analytics. We created RedTrack.io to be a digital channel-agnostic tool helping media-buyers consolidate their activities and data. As we grow we now aim at applying machine learning to augment human intelligence in the insights discovery process" — comments on Vlad Zhovtenko.

In the RedTrack YouTube episode, Vlad Zhovtenko talks about persistent improvement and customer support and summarises such core company's values, as attitude and consistency:


RedTrack Investment Details

On August, 3, EU Startups announced that RedTrack received $500,000 in Seed funding. Two leading investors in this round are Ukrainian Genesis Investments and Lithuanian Iron Wolf Capital. The RedTrack team will use the money to build new machine learning functionality and improve onboarding.

RedTrack investment underscores a couple of important trends, such as digital advertising market potential and the opportunity to effectively overcome crisis consequences. You can request a free demo of our new portfolio company on the RedTrack website.



Stay tuned with our latest deals and ask any questions directly in our LinkedIn and Facebook communities. We are open to communication! 🔔